CBN Plated Wheels
PRECISION

DIAMOND

& CBN

PRODUCTS




PHONE

480-966-9311

E-MAIL






Electroplated CBN wheels can be manufactured in a variety of sizes and styles, both standard and custom to your specific forms and are designed primarily for grinding hardened steels Braemar's precision CBN Form Wheels can be manufactured to your exact needs. We can furnish a coupon of the required form with each wheel. We also have the capability of machining the wheel on your adapter eliminating the time necessary for indicating. When you compare the performance, service and price of Braemar's superabrasive products, you will find that our Form wheels give you the value you have been looking for.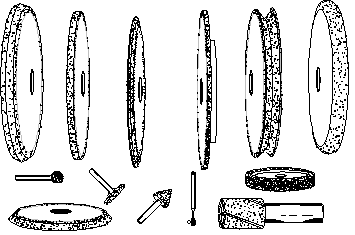 Advantages of Braemar Electo-plated/BRA-Z grinding wheels

No wheel dressing necessary.

No bond clearing required.

Allows grinding the full form

Controlled bonding

High wear resistance of the wheel.

High form accuracy of the ground workpiece profile.

High productivity.

Wheel bodies can be stripped and replated with new Diamond or CBN.

Coupons for every profile grinding wheel supplied.


ELECTROPLATED CBN CUSTOM TOOLS

Braemar electroplated, single-layer CBN products range in shapes and sizes from small plated mandrels to large OD wheels to 48" diameter saw blades. A complete line of electroplated CBN tools and grinding wheels ( with or without profiles ) is also available. Braemar tools can be manufactured by either the electrolytic or electroless method of plating on steel or stainless steel blanks to best satisfy your requirements. The removal ( strip & replate ) of used abrasive from your used blanks and replating with new CBN is offered whenever practical, even to include precision rework and remachining of blanks when required. Abrasive crystals are carefully applied in a single uniform layer and bonded to a precision ground steel body. Stock removal capability and the life of a grinding wheel not only depends upon the type of abrasive grain used, but also on the design. Grinding with super abrasives is no exception. With our CAD design center, and CNC equipment we are confident that we have the right solution to your grinding needs.